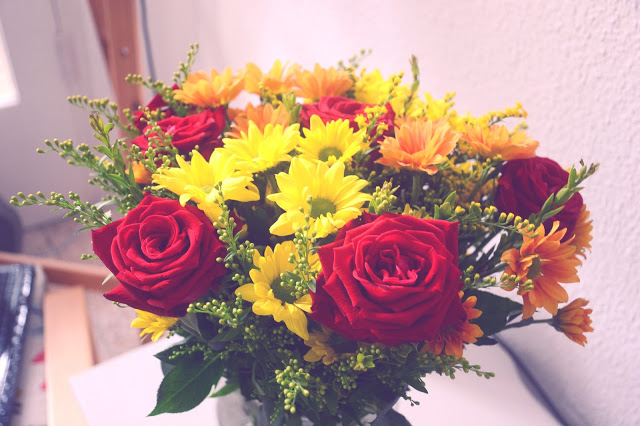 Good morning!
It's Sunday morning and I'm starting something new. At least, I'm going to experiment with it for a while and see how I like it- a weekend recap.
This week and mainly the weekend has been busy with lots of fun activities with family and friends.
Friday morning started with Alex getting me a really beautiful bouquet of flowers that makes me smile every time I see it on our dining room table!
Friday noon we spent with a couple of our friends we invited for lunch. I made a lasagna and Alex cut a salad, got a baguette, cream cheese, and more good stuff, and of course, beer. Put some good beer on the table, and you are good to go with a great meal! (I don't drink alcohol yet, but everyone else enjoyed it very much!)
In the evening, our little family of three went to take a walk at the promenade by the sea. We made it on time to see the sunset, and to take some nice pictures! With this stunning view, I breastfed Daniel and after his belly was fully fed, we when to grab something to eat ourselves. We ate pizza, which was pretty good and before heading back home we ordered our favorite IceCoffee at Landver.
This whole trip, Daniel was exploring everything on his tummy, as I'm really forcing him to spend as much of his awake time on his belly to make his little muscles stronger!
Saturday morning started off slowly with a good homemade Shakshuka for breakfast (with coffee of course!!)
After we had lunch, we went to visit our friends at their place. They are the type of people that you don't need to plane weeks ahead to actually meet, they are just awesome!
Saturday afternoon we decided to spent by the lake enjoying this time beautiful summer weather. My sister and her family joined us as did Alexander's brother with his kid, and we spent a lovely time together!
As a sweet ending to this fun weekend we've had, after Daniel's night time routine, my mother-in-law came to babysit him, as we went to my friends birthday party. We arrived an hour and a half late, but got there just in time to get a piece of the really tasty cake my other friend baked!
Daniel is a really easy, happy and smiling baby. But, being a mom is challenging. Having this human life that you're supposed to take care of and who is entirely dependent on you has its difficult times. You can easily forget to take care of you, sometimes to the point you get a little (or in my case, a lot) crazy, especially if you spend most of the time at home.
Finally having this full of outdoor activities and mellow (at parts) weekend was something I so much needed and it really boosted my spirit up!